I have stitched a free-form "nest" for my large bead in Czech size 8 seed beads, and added neckpieces in Right-Angle-Weave. Three rows of Flat Peyote would work well here, also.
Frog-In-The-Garden, part 2. Here, I've added more leaves, giving them a brown beaded stem, I've added some fringe and I am incorporating more friut beads into the piece.
As I progress, I will work layer upon layer, with my smallest beads being added last. My plan is to kind of "vine" the stems up the neckpieces, with a few tiny flower beads added last, along with the clasp.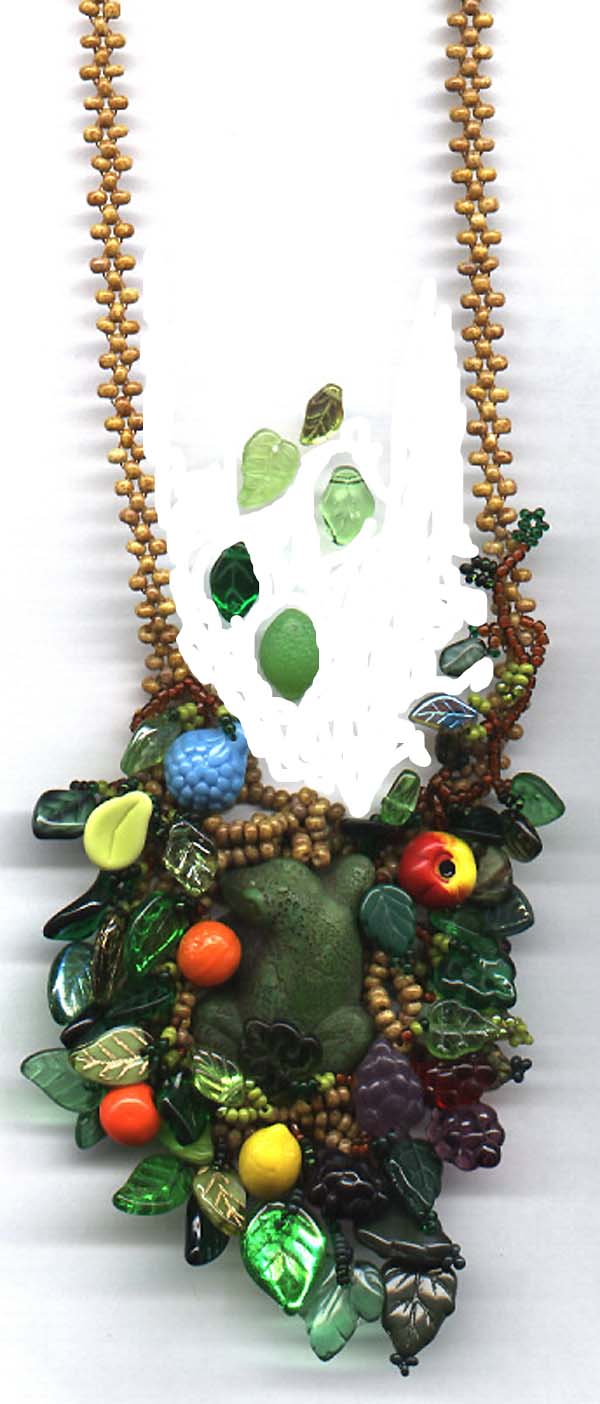 Frog-In-The-Garden,part 3. I've added quite a few more beads, and begun to embellish the straps. Pardon the scan, I have noticed that the more beads and height gets built up, the more difficult the scan is becoming. The loose beads are some that MAY end up in Froggie's garden, but who can tell? At this point, the beads are leading the way. A surprise benefit of using a fimo piece in something with this many beads, is the light weight of the fimo. The piece is surprisingly heavy.
Well, on to the finish!
I've been waiting for just the right project to use those little Czech "fruit beads".I used an apple, 2 oranges, a lemon, and numerous grapes. Makes a luscious garden for Froggie.